I've collected answers to frequently asked fitness questions from industry experts and what I would advise too.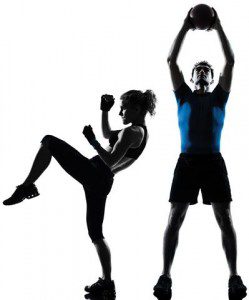 I have knee pain- so I can exercise? 
Many people use knee pain as an excuse not to exercise, but there's a difference between pain and discomfort. If there's shooting pain, then a physio should look at it. If it just feels a bit stiff then swimming,the rowing machine and cycling are activities you can try and be doable. Ideally the muscles around the knee need to be strengthened, so lunges and squats can help.
What are the best exercises for the tummy? 
For firm abdominal muscles, body fat needs to be reduced. Which is 80% to do with nutrition, the rest is aerobic exercise. After that, you need to work on the muscles at the side of the abdomen, the obliques and the transversus abdominis. The plank is a great exercise. Start by holding your stomach and bottom muscles tight for 10 seconds until you can hold it for at least 1 minute. Yoga, Pilates, swiss ball classes tend to focus on the core.
What's the fastest way to tone flabby arms? 
Interval training actually! one minute sprints followed by one minute of fast walking. Circuits class, swimming front crawl and racket sports are great arm toners. Other resistance training exercises can be performed too and a PT can show you how. Weighted dumbbells are great too and triceps – the muscles at the back of the arm are the easiest to tone up.
Is there a particular good time of day to exercise? 
The way it stands at the moment, exercise has an accumulative effect and my opinion is it doesn't matter which time of day one exercises as for me whats more important is the quality of the workout, strength and condition of your body and diet. I would avoid exercise close to bedtime as exercise has a stimulating effect. Personally I feel afternoon and early evening are the best times as the muscles are warmed up than if you wake up and go for a run even after a short warm up. The muscles have to be fully 'warm' and ready for you to avoid injuries. If you don't feel strong enough or not well then avoid exercise as the performance of your workout is likely to be poorer. Some people believe for quick fat loss than the best time of day is the morning, and this is fine too as long as something is eaten to give you some fuel. Unless you're doing yoga or other stretching exercises which can be done on an empty stomach.
Is it okay to do all your exercise at the weekend? 
You're better off spacing out your exercise sessions to get the maximum benefit of 'afterburner' where your body is still benefiting from exercise up to two days after the session. The greater the intensity of the workout the greater the effect. Even exercising on alternate days is better than exercising just once a week.
What are the best exercises?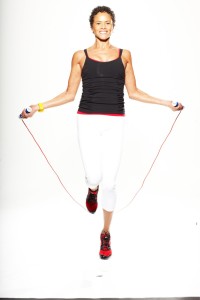 Mixing it up is the key, as this utilises all the different muscles. Doing too much of the same exercise can lead to too much bulk in one area of the body. I would recommend 1) skipping as no 1- because you are performing aerobic (fat loss) and anaerobic (muscle building) at the same time. Its low impact, cost effective and will get you fit in no time. 10 minutes a day to begin with if you do nothing at all.
My next favourites are the following which you can mix up. If you do any of these 3 times a week that's great. 2) swimming- toning, low impact, no sweating, relaxing and energising. 3) cycling- aerobic & toning 4)rowing machine- perfect all body workout 5) any exercise gym class like boxercise, body pump, aerobic dance class, etc. 6) Racket sports, tennis, squash & badminton. The exercise has to be enjoyable for you. Some may feel like they are tough, but if you feel amazing afterwards, then continue with it as you get stronger and fitter.
Do consult a personal trainer or GP if starting out with a new fitness regime for more tailored advice, as the above may not be suitable for everyone.