One of my favourite herbs is Echinacea. Not only is it a pretty flower also known as purple-headed coneflower, this beautiful herb also has a variety of uses and health benefits. Its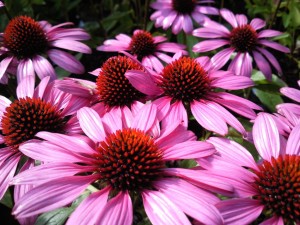 effective for preventing colds, flus, shingles attacks, cold sores, any virus pretty much. It also seems to have anti-bacterial properties and I've also recommended it to reduce acne too. The way it works seems to be its alkylamides which help increase the white blood cells and thus straighten the immune system. Although it is commonly taken over autumn-winter. I personally use it when I feel run down and in between seasons, like this present time from spring-summer transition, just to provide that extra defence to fight off viruses faster. I absolutely swear by this remedy and its great for those of you who get a few colds a year, are poor sleepers and work long hours. It can be taken in a tablet and tincture form and if your immune system is already in tip-top chapter remedy will pass harmlessly through your system.
Some extra facts about this wonderful echinacea:
Originated in America, and it likes warm, sunny climates.
A study in 2013 (Journal of Applied Science) found the root of Echinacea purpurea has strong anti-inflammatory activity and the aerial part demonstrated anti-viral activity.
There are some contraindications: avoid in pregnancy and during lactation. And those with an auto-immune conditions such as multiple sclerosis (MS), rheumatic arthritis and lupus are advised to avoid it.