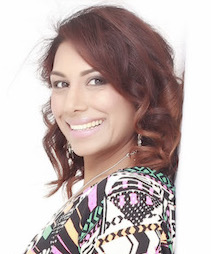 Greetings! I'm Sonal, director of Synergy Nutrition which I have been running since 2009. I am a qualified professional Nutritional Therapist and holistic lifestyle coach. I am passionate about healthy living and lifestyles and  adore empowering individuals to create the same in their daily lives. My approach to health is fun as our diets and lives should in no way be boring or restrictive.
My specialist area– Fitness and Sports Nutrition- Digestive imbalances- Men & Women's Health & Vegan/Vegetarian Nutrition.
I make regular appearances on TV and speak on the radio as a guest Nutritionist. So if you recognise me, you may have seen me on TV.
What drove me to a career in Nutrition?  The field of nutrition, fitness, health and spirituality has been a passion of mine since the age of thirteen. Therefore connecting the dots now,  my childhood interests turned out to me my career. No surprise there! At school I enjoyed studying different subjects and science and psychology were my A Level subjects. I then went on to a complete a first degree in Nutritional Biochemistry from Nottingham University, followed by a second degree in Nutritional Therapy at the University of Westminster. After all this studying I have gained a unique depth of insight into how our bodies work at a bio-chemical level.
Tell me about your lifestyle coaching? I have a holistic approach to health, so nutrition is just one leg on the stool. What about our lifestyles? The health of our mind, spirit and emotional wellbeing is just as important. My lifestyle coaching is part of the package and my own experiences & challenges have allowed me to emotionally and spiritually grow myself and equipped me with the tools on how to enrich my clients lives and unveil their true potential.
And you are also a spiritual mentor?  Yes, I fell into this by chance! Although I try to keep my spiritual work separate from my nutrition consulting, as the two are different. I began to realise that many of my clients were curious about my spiritual work and how to enhance their own spiritual wellbeing beyond food for the soul! This is inspiring to me and why I offer my spiritual services as our spirits need to be nurtured too! See the spiritual mentoring page for more information about my Reiki healing sessions and spiritual mentoring  which will enable us to go deeper into your unconscious and connects you to your wonderful higher self.
'Life is mysterious and unpredictable and its similar to the ebb and flow of a tide, it comes with highs and lows. Everything is in motion.' Synergy Nutrition Therapist & Spiritual Counsellor, Sonal Shah
'There are only two mistakes one can make along the road to truth; not going all the way, and not starting' Buddha
'Health is the greatest gift, contentment the greatest wealth, faithfulness the best relationship' Buddha
'We are shaped by our thoughts; we become what we think. When the mind is pure, joy follows like a shadow that never leaves' Buddha
'The most important thing is to enjoy your life – to be happy – it's all that matters'  Audrey Hepburn